Meet our Staff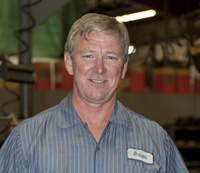 Brian - Shop Foreman
An employee since 1996, Brian, our shop forman, brings 34 years of experience in all areas of engine machining to the plant floor. In addition, engine assembly, equipment repair and "in house" cylinder head welding are his speciality skills. His hobbies include Mini Stock car and Cross country dirk bike racing.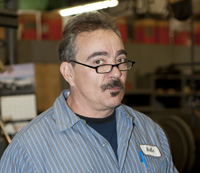 Dale - Machinist
Our oldest (not in age!) employee, Dale started with Motor Warehouse, our distribution warehouse, in 1978, and transferred to the Machine shop in 1979. Dale is our rod journal and stroker crank specialist. His accuracy in setting up rod journals for todays stroker engines is unsurpassed here on the West Coast. Dale also specializes in steel billet journal repair, often saving big dollar cranks at STD by repairing one journal. When not on the plant floor you can find him at home with his wife Kathy where they run a day care center for 15 children. His passion is competing in takewondo tournaments as a 2nd degree Black Belt with his daughters.
Paul - Machinist
Paul started automotive machine business in 1987 by taking the Automotive Machining class from Bob Lobdill at Sierra College in Rocklin CA. After working for Arron's Machine he landed his own machine shop, Sierra Cylinder Head Service in 1991, specializing in Cylinder head rebuilding. An employee at KEC since 2006, he runs our cylinder head and balance departments. His hobbies include antique phone collecting and repair.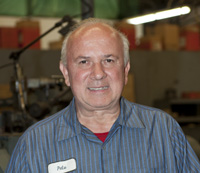 Peter - Machinist
Pete comes to us from the "the old country" Romainia. A true immigrant from behind "the iron curtain" of Ceausescu, Pete brought skills he learned as a machinist apprentice from the Soviet era industrial industry. 3 years training, 3 years machining and time served in the Romanian Army taught him skills that could be used when he immigrated and started an Bokan Brothers Engine Rebuilders in 1987. After 10 years at Bokan and a brief stint as a truck driver, he started with KEC in 2000 as a crank grinder. Pete grinds all our Heavy duty "big stuff",main journals, and showed his true tallents as a craftsman when he machined a crank for a 1906 White Steam car from a solid piece of billet steel. His hobby is working with stone, marble and granite. His home shows off his handy work in the form of counter tops, flooring and kitchen work.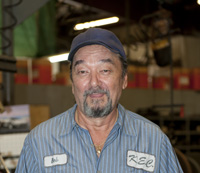 Bob - Machinist
Bob came to KEC in 2005 with 27 years previous experience working for a local production engine rebuilder. He apprenticed at Bokan Borthers in their repair and camshaft departments. Bob keeps our crank welding, connecting rod, lifter, and camshaft grinding needs covered. He also has earned the reputation from his fellow employees as the resident "black smith", showing his tallent for being able to make stuff for the shop. When not grinding something, you can find Bob out fishing somewhere in the Delta.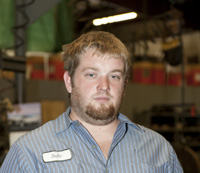 Dale Jr. - Machinist
Every good shop has an apprenticing machinist who is being trained by the veterians. Dale Jr is that young machinist for us. Jr is our quality control inspector, runs the QPAC Crank Polisher, and now is training in the block department boring and honing, His hobbies include motor cross dirt bike riding and Jet ski's.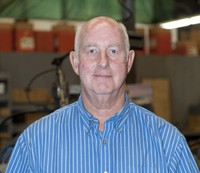 Brent Nyberg - New Old Stock Specialist (NOS)
Brent started in the Automotive Aftermarket in 1969 and workded at Grand Auto, Bokan Brothers, Valley Ring & Rebore, Master Motor Parts and from 1977-1981 at Bart Riebes store in Grass Valley. Coming on board as a purchasing agent at Motor Warehouse in 1981, Brent brings decades of parts experience to our new old stock California Obsolete Engine Parts (CAOEP) company. NOS parts is truly a nitch market today in the highly competative internet world. Brent's knowlege of the restoration parts market is right up there with the best companies like Egge and Cantor. Brent's hobbies include camping and Kayacking with his wife Jeannie on the weekends.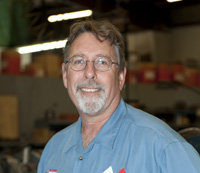 David Kenmonth (D.K.) - President
Better known in the industry as D.K., Dave has kept the 80 year old family business running since 1974. Finding the nitch products needed to survive, particularly in this era of internet pretenders, has been challenging yet rewarding for him. As a front line employee, DK has 40 years of knowlege and experience in machine shop management, wholesale parts distribution, sales and product development. Plus, he has created thousands of parts build lists for engines starting in 1928 for use by California Obsolete Engine Parts & Kenmonth Engine Company's customers. Some of DK's and Family firsts include founding of the Western Engine Rebuilders Association, the predessor to PERA; design, build and patten the first Jet Clean Tank which revolutionized the industry cleaning standards at Storm Vulcan in 1963; marketed the first Master Kit for engine builders in the 1950's; and put together three production shops that remanufactured up to 900 engines and 2000 crankshafts per month. DK's hobies include gardening and water skiing.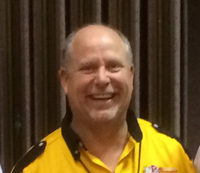 Greg Riddle - General Manager and Director of Operations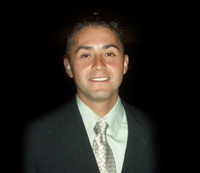 Jose A. Torres - Director of Information Technology and Marketing
Jose joins Kenmonth Engine Company with over 14 years of experience in the information technology sector. He has developed and led technology strategic plans for public and private companies across the medical, legal, transportation, manufacturing, entertainment and food service industries. As Director of Information Technology and Marketing, his primary responsibilities include assisting Kenmonth Engine Company executive team with technology strategic planning, software development and deployment, data management and analysis, online community development and network infrastructure.
Jose served honorably in the United States Marine Corps from 1997 to 2001. During his time as a Weapons Instructor and as a Training instructor in the Transportation Division, Jose pioneered innovative technology methods that increased operational efficiencies by greater than 35%. Additionally, in analyzing data from these novel applications, new standard operating procedures were implemented to improve transportation operations globally.
Jose has received an Associate Degree in Engineering and a Bachelors Degree in Computer Science. He is currently working on his Masters in Design Thinking.
Jose volunteers with Backbones, a nonprofit community of individuals that suffer from spinal cord injuries. He also volunteers his time teaching information technology and web development to students at Oak Park Prep in Sacramento.
Jose enjoys playing and coaching soccer, hiking, snowboarding, rock climbing, photography and reading. He speaks Spanish fluently.